READING STRATEGIES FOR PARENTS
Dear Parent,
One of the best things you can do to assist your children with reading is to engage them in talking about the books they read. Talking stimulates language development and helps children improve their comprehension.
As you get ready to share a book with your child, you might ask your child to talk about the cover, the title, and a few of the pictures in the book. This "before-reading" conversation will help your child to build the expectation that stories make sense. This is also a good time to help your child connect personal experiences to the reading. If there is a picture showing a picnic, for example, this would be a perfect time to talk with your child about a picnic you enjoyed together.
You can also invite your child into conversation during the reading by stopping now and then to ask, "What might happen next?"
As you know, children love to share their opinions. After reading, you might get your child started with questions such as:
What did you notice?

What did you like?

How did it make you feel?

Did this remind you of any experiences you have had?

What parts of the story were your favorites?
Just choose one or two questions so that it feels like a conversation instead of a test. Happy Reading!
STRATEGIES GOOD READERS USE
What might happen next? Why?

How will the story end?
If I close my eyes,
I can see…

I can hear…

I can feel…

I can smell…

I can taste…
Finding something that is connected
To my life

To another book

To things in the real world
What the author is trying to say

What details are the best clues

How all the pieces fit together
WONDERING: (QUESTIONS THAT POP INTO MY HEAD)
What might happen next?

How will the story end?

Why did the author write this?

What is going on here?
When I don't get it

When something is important

When the author has done something tricky

When I've guessed right or wrong
By Jill Marie Warner

When I get stuck on a word in a book,
There are lots of things to do.
I can do them all, please, by myself;
I don't need help from you.

I can look at the picture to get a hint,
Or think of what the story's about.
I can "get my mouth ready" to say the first letter,
A kind of "sounding out."
I can chop the word into smaller parts,
Like on and ing and ly,
Or find smaller words in compound words
Like raincoat and bumblebee.
I can think of a work that makes sense in that place,
Guess or say "blank" and read on
Until the sentence has reached its end,
Then go back and try these on:
"Does it make sense?"
"Can we say it that way?"

"Does it look right to me?'
Chances are the right word will pop out like the sun
In my own mind, can't you see?

If I've thought of and tried out most of these things
And I still do not know what to do,
Then I may turn around and ask
For some help to get me through.
The Reading Hand is one visual tool that we use for teaching reading strategies. These strategies are used when a student hits a word they don't know.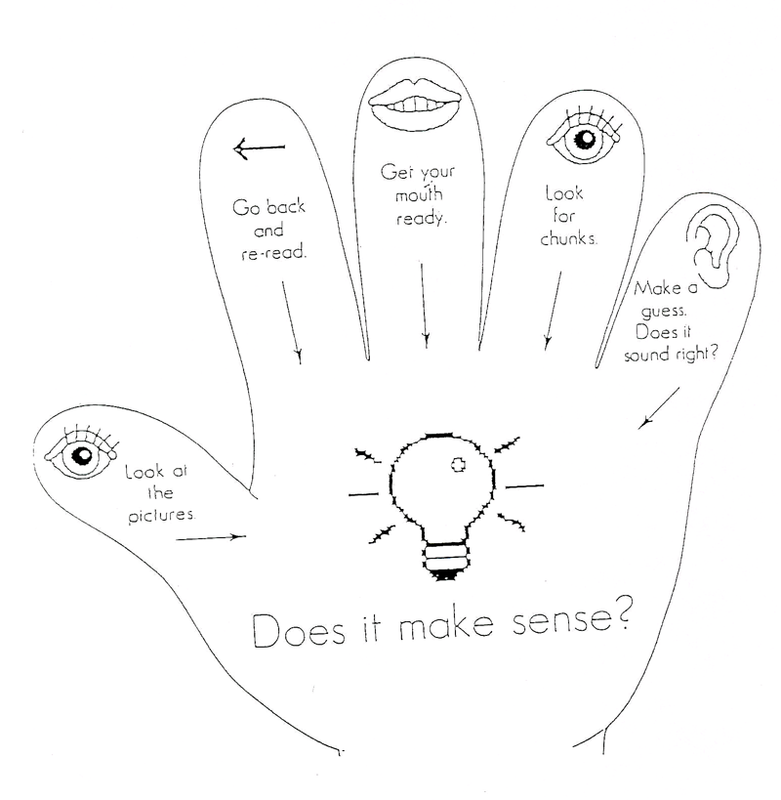 Reading Hand